Regular price
Sale price
€27,50
Unit price
per
Sale
Sold out
Senevin Vitamin and Mineral Paste
The original Senevin Vitamin and Mineral paste is a natural paste that is obtained in a traditional way. This extremely effective herbal formula contributes to opening the airways and cleaning the lungs. The paste does not cause any health damage and has no side effects. The paste provides detoxification of the lungs / airways and can be easily consumed by everyone. You really have to try this incredible traditional treatment method that cleans and renews your lungs and airways! Order the original Senevin Vitamin and Mineral paste quickly!
To achieve the optimal detoxification effect, it is recommended to use the paste regularly for 45-90 days. That is why we recommend starting with at least 3 pots.
For usage information, please visit the home page.
You can adjust the number of desired items in your shopping cart.
Ingredients:
Carob Molasses
Andesian molasses
Beach Pine
Beach Pine Molasses
Turmeric
Ginger
Pine nuts
Kebabiye
Yarrow
Liquorice
Cholecalciferol (Vitamin D3 (0.05%))
Zinc Picolinate (Zinc 1.1%)
Beta glucan
Sodium benzoate
Potassium sorbate
Ascorbic Acid (Vitamin C)
View full details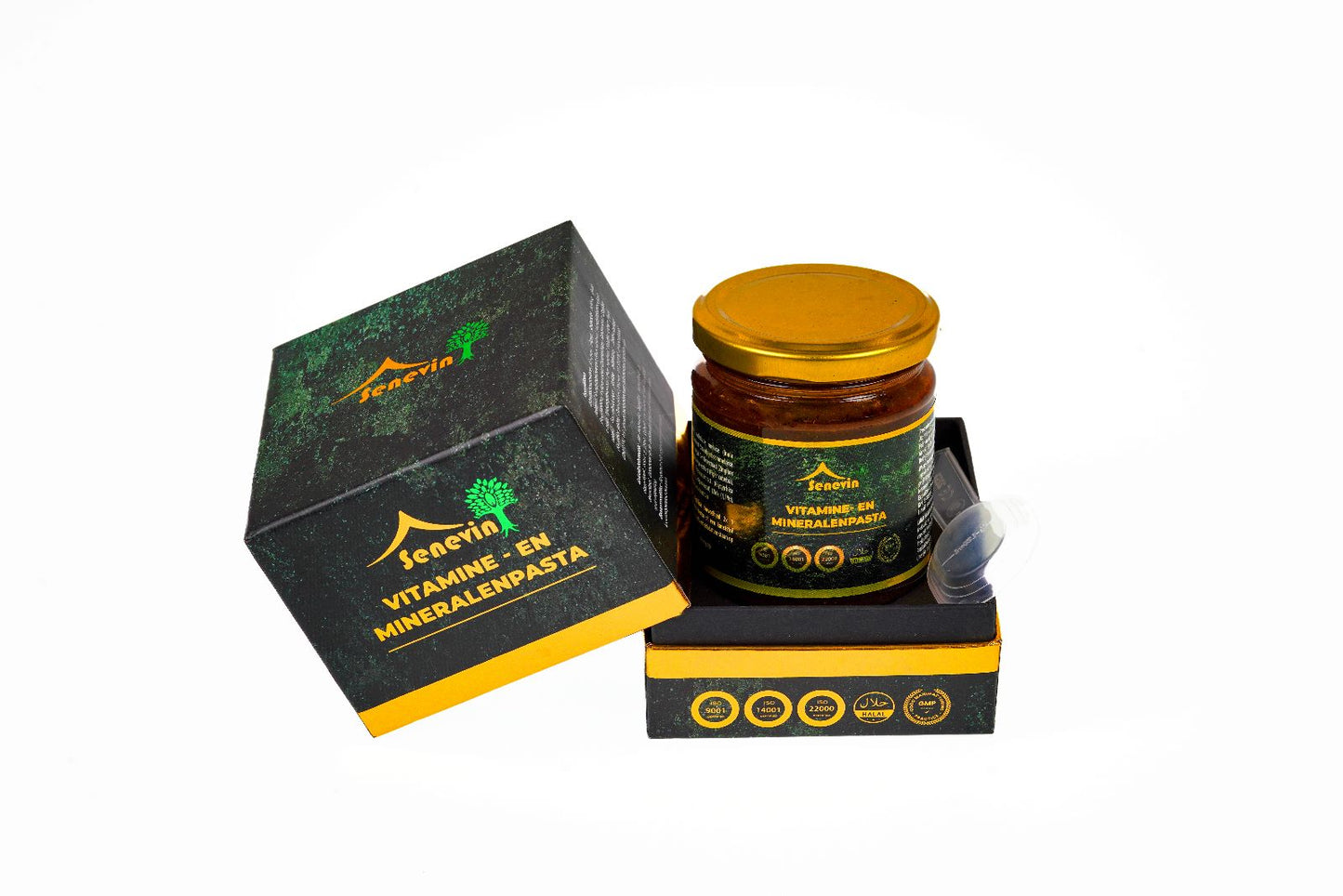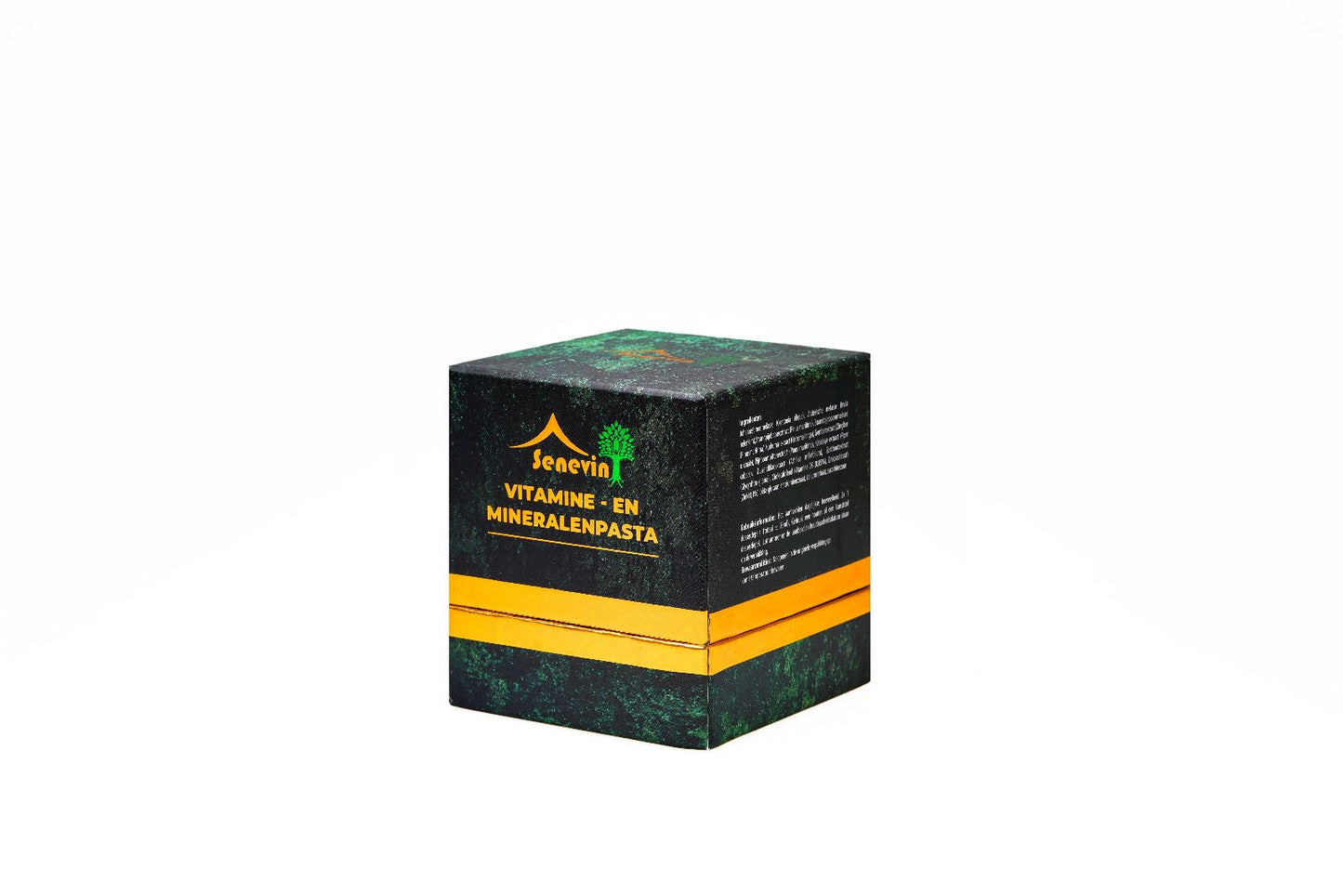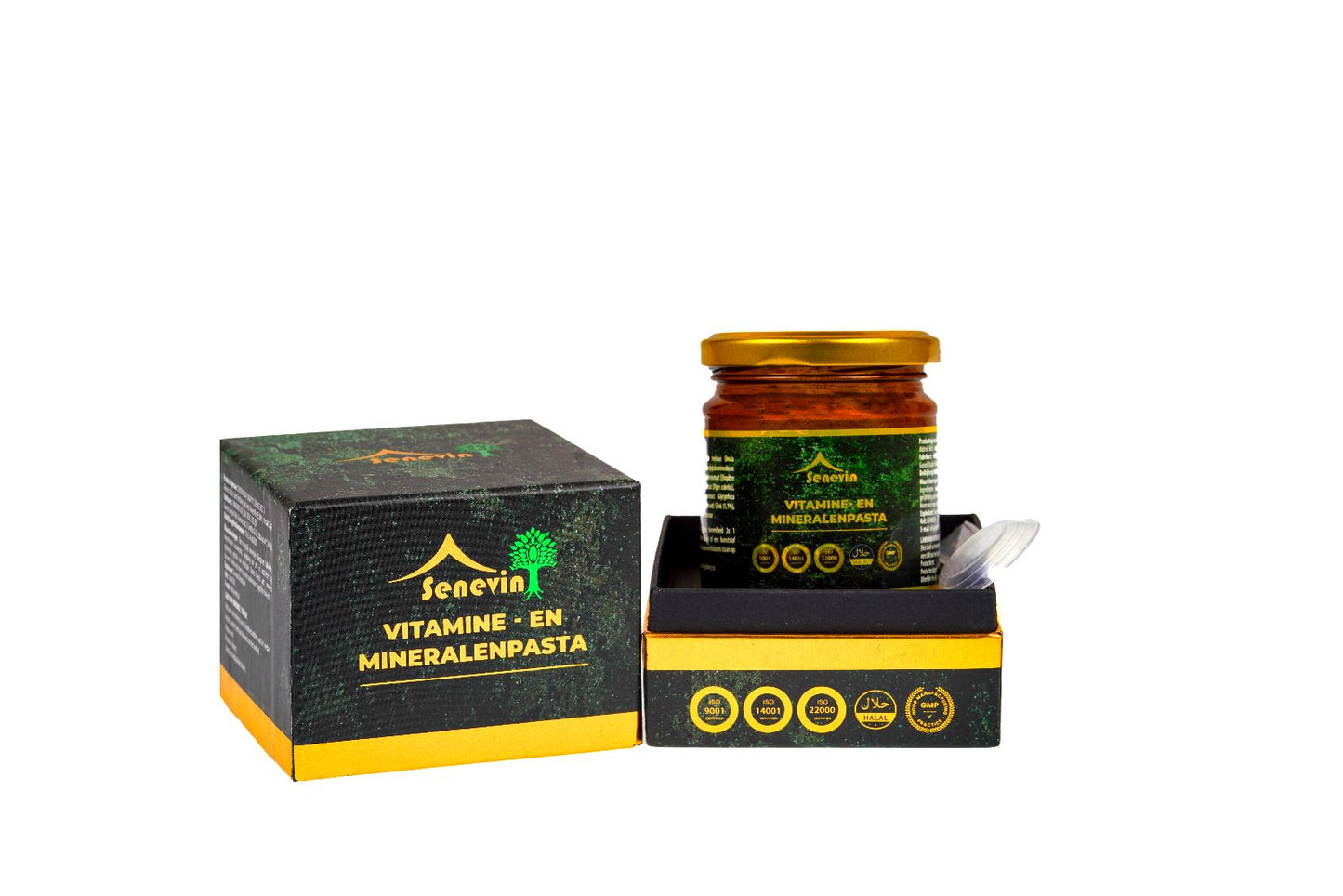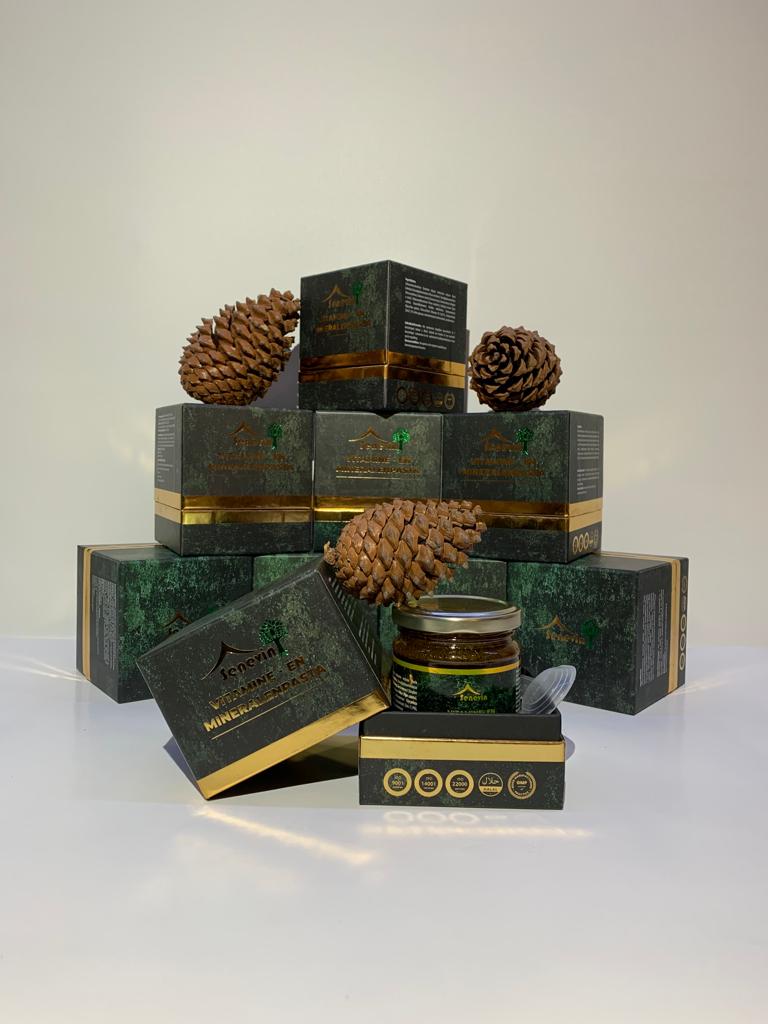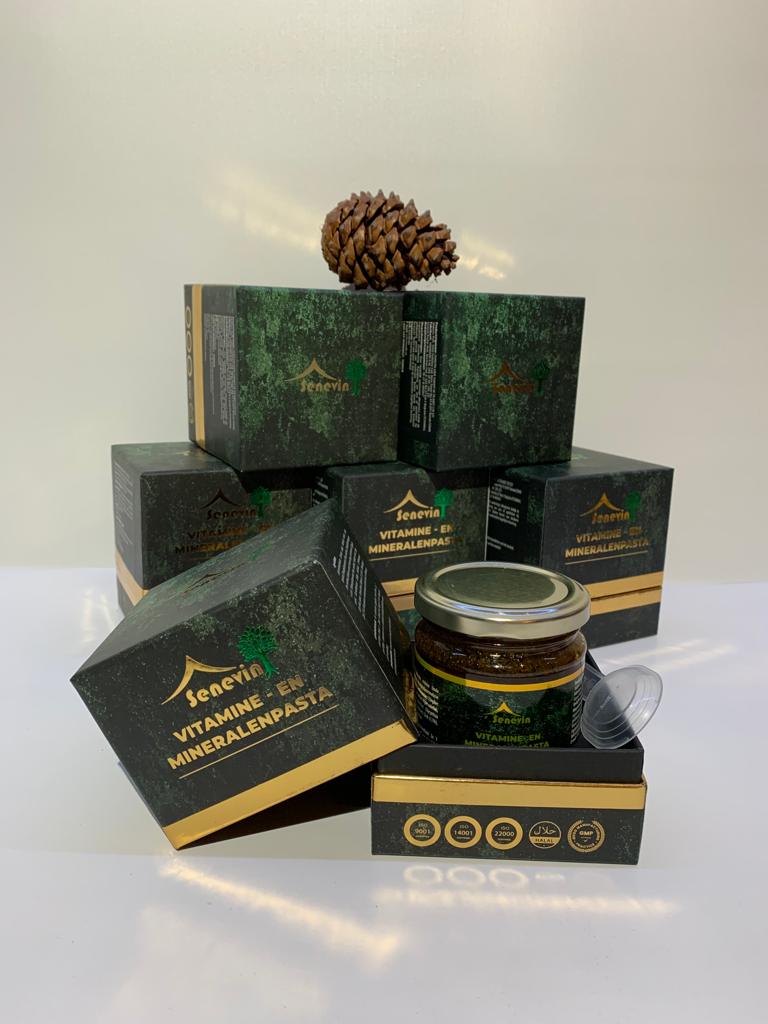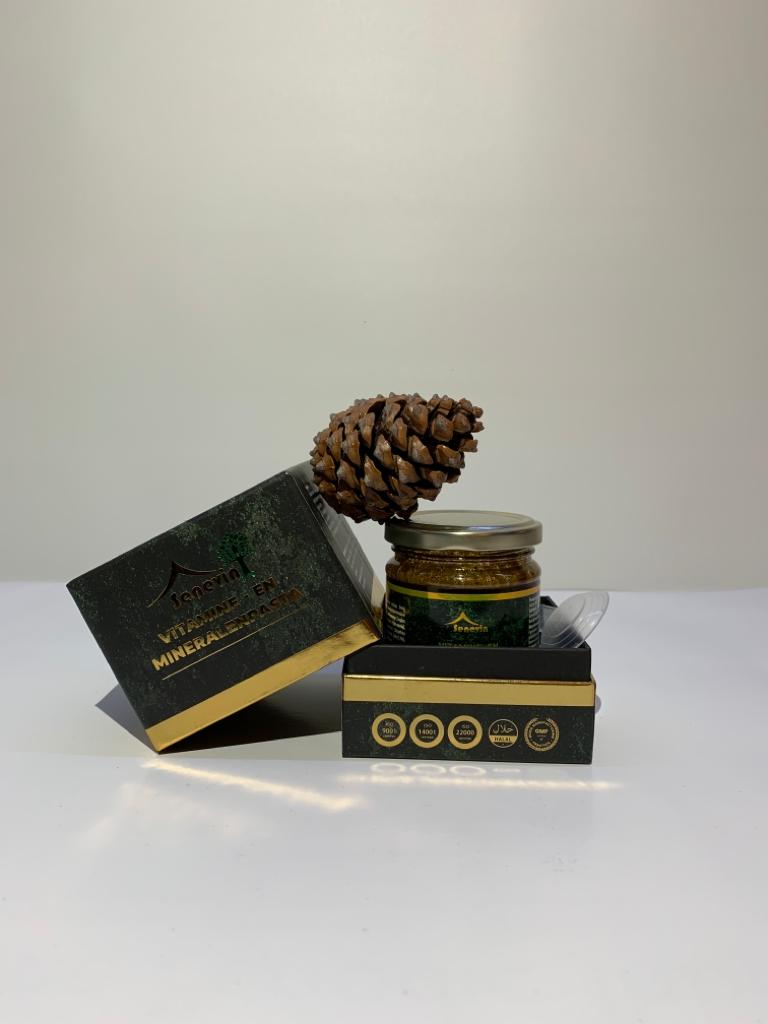 perfect ook voor wonden aan de buitenkant
eind juli mijn vinger open gehaald bij het onkruid uit de tuin te halen waar een doorn bij tussen zat AU . grote en een diepe wond . Ben ik de PASTA gaan gebruiken , pasta op de wond heel voorzichtig en een pleister erom heen, naar een paar uur weer opnieuw pasta en pleister . Het is verbijsterend wat de pasta doet bij een open wond na 3 dagen was de wond dicht , resultaat is PERFECTE wondermiddel
Energie
Gebruik Senevin al van het begin.
Mijn zus Greet Mooyekind bestelde het voor ons samen ,omdat alleen zij internet bankierde.
Helaas is zij overleden .en heb ik het via haar zoon laten bestellen op mijn naam
Ik krijg meer energie en ben minder kortademig
Bevalt mij prima
Met vriendelijke groet
Gonnie Houthuijsen
Hoest niet meer
Mijn benauwdheid is nog niet verbeterd Wel sneller meer lucht
Kwaliteit in alles
Snelle berzorging, mooi verpakt en prima inhoud. Helpt me van astmatische klachten af
Belangrijke informatie
Ingrediënten

Ingrediënten:

Johannesbrood Melasse
Andesische Melassa
Strandpijnboom
Strandpijnboom Melasse
Kurkuma
Gember
Pijnboompitten
Kebabiye
Duizendblad
Zoethout
Cholecalciferol (Vitamine D3 (0,05%))
Zink picolinaat (Zink 1,1%)
Bèta-glucaan
Natrium benzoaat
Kaliumsorbaat
Ascorbinezuur (Vitamine C)
Hoe gebruikt u Senevin Vitamine & Mineralen pasta?

Senevin Vitamine- en Mineralenpasta pasta is eenvoudig en praktisch in gebruik. Het is voldoende om 2 keer per dag, 's ochtends en 's avonds,

1 houten of kunststof dessertlepel Senevin Vitamine- en Mineralenpasta te consumeren. Bij consequent gebruik gaat 1 pot van 200 gram gemiddeld 10 dagen mee. 

Gebruik in GEEN geval een metalen lepel! Hierdoor verliezen de natuurlijke ingrediënten hun werking.

Lees voor gebruik de verpakking aandachtig door.
Keurmerk

Senevin Vitamine- en Mineralenpasta wordt in Turkije met zorg gemaakt zodat de kwaliteit van de pasta gewaarborgd kan worden.

Ook in Nederland is Senevin Vitamine- en Mineralenpasta een geaccrediteerd natuurlijk product. Ons product is door een erkend en gespecialiseerde instelling goedgekeurd voor consumptie.

- ISO 9001

- ISO 14001

- ISO 22000

- Good Manufacturing Practice (GMP)

- Halal

Deze accreditaties staan ook vermeld op de verpakking